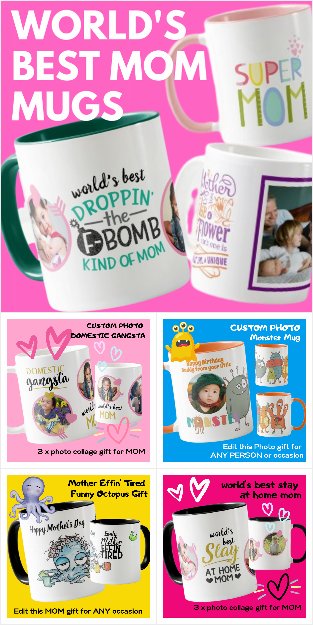 I've made
over $320,000 income since joining Zazzle
and am now a Platinum seller, here are some tips on how you can make money on Zazzle, including how to get started, choose a niche, use social media and
affiliates
to drive your sales.
Before I get started it is important to note the income I earned was not spread out evenly across my Zazzle membership. I made very little income in the first few years on Zazzle and things only turned a corner when I devoted myself full-time to Zazzle. I would have loved to know back then what I know now and this is what I aim to share with you. Your approach may be entirely different and I'd love to learn about your experiences and challenges via comments.
The first lesson you need to learn is to be patient and persistent: Making money on Zazzle, or any platform, takes time and persistence and there is no guarantee of success.
Zazzle is not a get-rich-quick scheme!
While it's possible to make money on Zazzle, it takes time, effort, and dedication to create and promote high-quality products and build a successful business. It can be a steep learning curve but to get you started in the right direction (and the only way is up!) here are a few tips.

What is Zazzle?
Zazzle
is an online marketplace that allows users to create and sell customizable products such as t-shirts, mugs, phone cases, and more. If you're an artist or designer looking to make some extra money, Zazzle can be a great platform for you to sell your creations.
Here are some tips on how to make money on Zazzle:
Create a Zazzle account: To start selling on Zazzle, you'll need to create an account. You'll be asked to provide some basic information about yourself and agree to the terms of service.
Choose your products: Zazzle has a wide range of customizable products that you can sell, including t-shirts, mugs, phone cases, and more. Decide what kind of products you want to sell and start designing.
Design your products: You can either create your designs from scratch using a design software like Adobe Illustrator or Photoshop, or you can use pre-made templates and customize them to your liking. Make sure your designs are high-quality and visually appealing.
Set your prices: Zazzle allows you to set your own prices for your products. Consider the cost of materials, the time it takes to create the product, and any other factors that may affect the price.
Promote your products: Once your products are live on the Zazzle website, it's important to promote them to potential customers. You can share your Zazzle store and products on social media, on your own website or blog, or through email marketing.
Keep track of your sales and profits: Zazzle provides detailed reports on your sales and profits, so you can track your success and make any necessary adjustments to your pricing or marketing strategy.
How to find a niche to create best-selling products for Zazzle
Picking a niche on Zazzle is an important step in building a successful online store. Here are some tips to help you choose the right niche for your business:
Consider your interests and skills: Think about what you're passionate about and what you're good at. If you're an artist, for example, you might consider selling custom art prints or phone cases featuring your designs. If you're a sports fan, you might consider selling t-shirts or mugs featuring your favorite team's logo.
Research the market: Look at what's already available on Zazzle and see what types of products are popular. You can also use tools like Google Trends to see what people are searching for and how those trends have changed over time.
Think about your target audience: Who are you trying to sell to? Consider the age, gender, interests, and other characteristics of your ideal customer. This will help you choose products and designs that will appeal to them.
Consider the competition: While it's good to choose a niche that's popular, you'll also want to consider the level of competition. If there are already a lot of sellers in your chosen niche, it might be more difficult to stand out. On the other hand, a niche that's not very crowded might offer more opportunities for success.
Test your ideas: Once you have a few ideas for your niche, try testing them out. Create a few products and see how they sell. This will give you an idea of whether your niche is viable and whether your products are in demand.
Read more here ................

How to use Social Media to drive your Zazzle sales
Social media is a powerful tool for promoting your Zazzle products and reaching new customers. Here are some tips on how to use social media to promote your Zazzle store:
Create a social media presence: First, make sure you have a presence on the social media platforms that your target audience is most likely to use. This could include platforms like Facebook, Instagram, Twitter, Pinterest, and more.
Share your products: Post high-quality images of your products and include links to your Zazzle store in the captions. You can also create posts highlighting specific products or collections.
Use hashtags: Hashtags can help your posts get discovered by people who are interested in your products or your niche. Use relevant hashtags in your posts and consider creating a branded hashtag for your business.
Engage with your followers: Social media is a great way to connect with your customers and build a community around your brand. Respond to comments and messages, and encourage your followers to share their own photos of your products.
Run social media promotions: Consider running promotions or contests on social media to drive traffic to your Zazzle store. For example, you could offer a free product (you'd pay for it of course) to anyone who shares your post or follows your page.
How affiliates can help you sell more Zazzle products and how to attract them to your site
Affiliates
can be a great way to promote your Zazzle products and reach new customers. Here are some tips on how to gain affiliates to promote your products:
Join affiliate programs: Zazzle has its own affiliate program, which allows affiliates to earn a commission for promoting your products. You can also join affiliate programs for other platforms that your products are listed on.

Provide resources: Make it easy for affiliates to promote your products by providing them with high-quality images and product descriptions. You can also create promotional materials like banner ads and social media posts for affiliates to use.
Stay in touch: Keep in touch with your affiliates and provide them with updates on new products, promotions, and any other relevant information. This will help them stay engaged and motivated to promote your products.


What are the best products to sell on Zazzle?
There are a few factors to consider when choosing products to sell on Zazzle. Here are some tips to help you choose the best products for your store:
Consider your target market: Think about the types of products that your target audience is likely to be interested in. For example, if you are targeting a younger, trendy audience, you may want to consider selling phone cases, t-shirts, or other trendy products.
Look for popular and in-demand products: Look for products that are currently popular and in demand. You can do this by browsing Zazzle's best-selling products or by doing some research online to see what types of products are currently trending.
Choose high-quality products: Make sure to choose products that are made from high-quality materials and are well-designed. This will help to ensure that your customers are happy with their purchases and are more likely to return to your store in the future.

What are the best-selling products on Zazzle?
T-shirts: T-shirts are a classic, popular product that can be customized with a wide range of designs and colors.
Mugs: Custom mugs are a popular choice for personal use or as gifts. You can customize the design, size, and style of the mug to suit your target market.
Phone cases: Phone cases are a popular product that can be customized with a wide range of designs and colors.
Mouse pads: Custom mouse pads are a practical and popular choice for both personal use and as gifts.
Posters: Custom posters are a popular choice for home decor or as gifts. You can customize the size, design, and style of the poster to suit your target market.
Tote bags: Custom tote bags are a popular choice for personal use or as gifts. You can customize the design, size, and style of the tote bag to suit your target market.
Stickers: Custom stickers are a popular choice for personal use or as gifts. You can customize the size, design, and style of the stickers to suit your target market.
Stationery: Custom stationery, including notebooks, notepads, and greeting cards, are popular choices for personal use or as gifts.
How to make your Zazzle Store stand out
Use high-quality product images: Clear, well-lit images of your products will help attract potential customers and give them a good idea of what they're buying. Creating your own cover photos increases your chances of being selected as an editors pick and promoted by Zazzle.
Offer a wide range of products: The more products you have available, the more likely you are to attract a diverse group of customers. Consider offering a variety of sizes, colors, and styles to appeal to a wide range of people.
Create unique and eye-catching product descriptions: Use descriptive, compelling language to entice customers and give them a sense of what makes your products special.
Offer customizations: Allowing customers to personalize your products can make them feel more special and encourage them to purchase from your store.
Promote your store through social media and other marketing channels: Use platforms like Instagram, Facebook, and Pinterest to showcase your products and reach a larger audience.
Use SEO to optimize your store and product pages: Utilize keywords and tags to make it easier for potential customers to find your store through search engines.
Offer competitive pricing: Research the prices of similar products and make sure your prices are competitive while still allowing you to make a profit.
Provide excellent customer service: Respond to customer inquiries and complaints promptly and professionally to build trust and encourage repeat business.
Regularly update your store with new products: Adding new products to your store regularly can keep customers coming back to see what's new.
How to find Tags for your Zazzle Products
Keywords are important for Zazzle products because they help customers find your products when they are searching for specific terms on the Zazzle website or on search engines like Google. When customers search for a specific keyword, the search engine will display a list of products that contain that keyword in their titles or descriptions. By including relevant keywords in your product titles and descriptions, you can increase the chances that your products will appear in search results and be seen by potential customers.
In addition to helping customers find your products, using relevant keywords can also help improve the search ranking of your products on Zazzle and other search engines. This can lead to more visibility and potentially more sales for your products.
Overall, using keywords effectively can be an important part of your product listing strategy on Zazzle and can help increase the success of your products on the platform.
To find tags for your Zazzle products, you can follow these steps:
Start by thinking about the keywords that describe your product. These should be words or phrases that people might use when searching for a product like yours on Zazzle or other online marketplaces.
Consider using terms that are specific to your product. For example, if you are selling a t-shirt with a cat design, you might use the tags "cat t-shirt," "feline fashion," or "kitty apparel." Use a combination of broad and specific tags. While specific tags will help your product show up in more targeted searches, broader tags will also help your product be discovered by a wider audience.
Consider using tags that reflect the occasion or event for which your product would be suitable. For example, if you are selling a wedding invitation, you might use the tags "wedding," "bride," "groom," and "wedding invitation."
Research the tags that other sellers are using for similar products. This can give you ideas for tags to use and help you understand which terms are most popular with buyers. But do not copy, this is bad practice.
What are the best sites for FREE keyword analytics tools?

In conclusion, Zazzle is a great platform for artists, designers, and creators to monetize their talents and make money online but only with a lot of time and dedication and a willingness to learn the wonderful ways of making money online. The skills you learn here will be transferable and that can only be a good thing!
That's all for now! Follow the blog for updates.